The coronavirus pandemic is not just a disaster but also a test of the strength of the public system in general and the healthcare system in particular. This opinion is shared by the Executive Director of the Association "Partnership Network" in Kyrgyzstan Aibar Sultangaziyev. He spoke about his personal experience in the fight against coronavirus and the importance of vaccination, exclusively for www.virusoff.info
Aibar, did you have coronavirus?
Yes, I got it twice.
Huh?!
So that is. The first time I got sick was last June. I then quickly recovered in about five days. After five months, I got ill again; it was in November. Then I thought that they did not get sick or got sick in a milder form the second time. It turned out that they get sick very well.
How did the disease develop for the second time?
On the fifth day, I realized that I had a usual cold, but COVID-19. For three days, I was cured at home, and then I did an analysis, and it turned out to be positive. I had 40% lung damage bilateral pneumonia, and I went to the hospital by that time. Then a department for patients with coronavirus was opened in the anti-tuberculosis hospital, and they helped me recover in about five days.
Throughout the pandemic, on your Facebook page, you were rather sharply critical of the actions of the then Government. Why?
As in many countries, a total lockdown was introduced in Kyrgyzstan at the end of March 2020, which lasted almost a month and a half. Throughout the country, there were posts with the police and the military; we all froze. Everyone was at home; it was possible to go outside or somewhere only with special passes; in fact, martial law was introduced here. This time was given to the Government to prepare. Naturally, we monitored how the Government allocates money for the purchase of medicines, for the development of clinical protocols, and the re-profiling of hospitals. However, none of this was done. All this lasted until July when it got so bad that the sick were dying on the streets, as they showed in Italy at the very beginning. Hospitals were overcrowded; people simply suffocated on the threshold of hospitals. Only then did any tangible steps begin to be taken to stop this collapse.
On the third day of the quarantine, my colleagues and I sat down and developed a plan for adapting HIV and TB programs to the pandemic conditions. They all work to this day. A week before the lockdown, we sent letters to all our partners asking them to provide all patients with medicines and syringes. In addition, we have introduced mobile teams, long-term dispensing of drugs, and remote counseling. Moreover, we took part in writing the proposal to the Global Fund, thanks to which we were among the first to receive funding. In June 2020, 860 thousand dollars were allocated, and in 2021 we wrote an application in three weeks, and 6 million dollars were allocated to the country. Personal protective equipment, tomographs, rapid tests, and much more were purchased with this money. Note that all this is the money of the Global Fund, not the Government of Kyrgyzstan.
How quickly did the coronavirus vaccine arrive in the country?
In early 2021, the Government did not allocate money for this; they all tried to beg for a vaccine from other countries or funds. The first batch of about 50 thousand doses came as humanitarian aid from Russia, Sputnik. In March-April, money was allocated to purchase a vaccine from the state budget, about $10 million. With this money, they bought a batch of Sinopharm. Later on, Moderna and Pfizer became available. AstraZeneca also entered the country, but for some reason, it was not mainly in demand among our fellow citizens.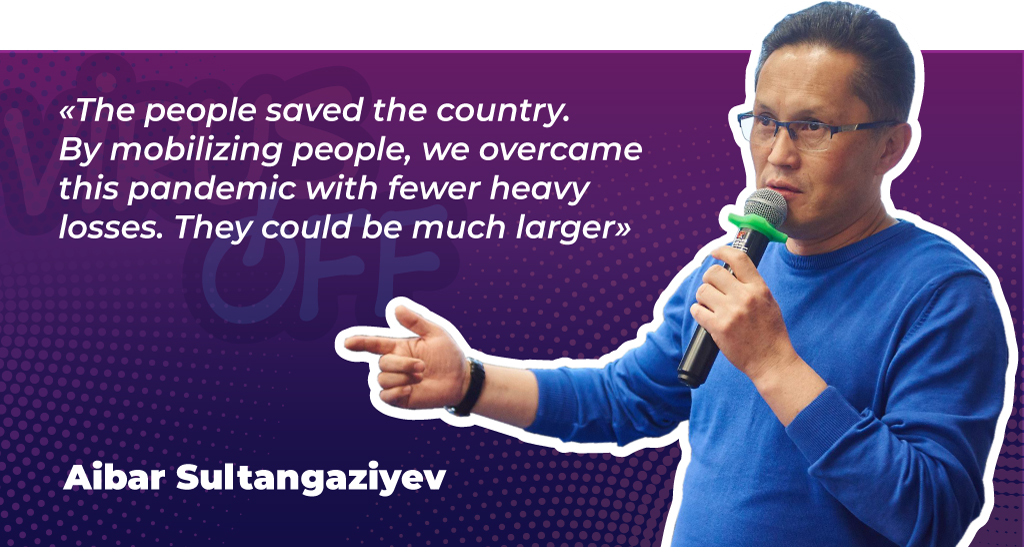 When there is a pandemic in the country, doesn't it matter what you get vaccinated with?
You know, after July-August last year, people lost their memory. They simply forgot how the sick died; the people began to live as before. Mass events, weddings, concerts, sporting events are allowed now. The people in the country do not wear masks. Formally, we have to do it, but no one follows these rules. In July, up to 1000 cases were registered a day this summer, but people ignored it. Our fellow citizens are skeptical about vaccination.
Have you been vaccinated?
Sure. When a person suffers coronavirus twice, they understand that this disaster cannot be trifled with. As soon as Sinopharm appeared in the country in March of this year and was approved by the WHO, we wrote an official letter to the Ministry of Health requesting that NGO employees be vaccinated. Now I also think about re-vaccination, but it is not yet allowed formally, and they promise soon. We are waiting for the order.
Did you have any post-vaccination problems?
Everything was ok, with no side effects.
Now in Kyrgyzstan, the growth of new cases is relatively slow – doctors register 50-60 new patients a day. How do you explain this if people go without masks in the country and there are no restrictions?
This is a paradox, and no one understands why this is happening. We have no restrictions; we are constantly in contact with each other, while the number of new cases is consistently low. Several explanations: either the virus "broke down" and stopped replicating, or people developed herd immunity. Another version is that Asian peoples have an enzyme resistant to coronaviruses. I don't know which of these theories to believe, but the fact remains that there are few cases.
Has the pandemic been a test of strength for your healthcare system?
The pandemic has become a test of strength for the state system as a whole. The public administration system more or less functioned under standard times, but it was not adapted to COVID-19. We recorded total abuses of power purchases at ultra-high prices. And any investigations on this matter were immediately stopped. As a result, in October 2020, we had another revolution; there was a complete change of power, the effectiveness of which is still in question.
But I would like to mark the role of our people, our people, and the mobilization of civil society. You know, I have never seen anything like this in any country! Last year, in July-August, our citizens sent oxygen concentrators and medicines by air. They bought it all and sent it home. Our doctors consulted patients via Telegram channels, all the young people went on duty and worked in the red zones as volunteers. It is impossible to forget the case that happened in July, which shocked us all when a 22-year-old medical student died after 11 days of work in the "red zone" in one of the hospitals in Bishkek. She died right at work; she just lay down to have some rest and did not wake up. The people saved the country. By mobilizing people, we overcame this pandemic with fewer heavy losses. They could be much larger.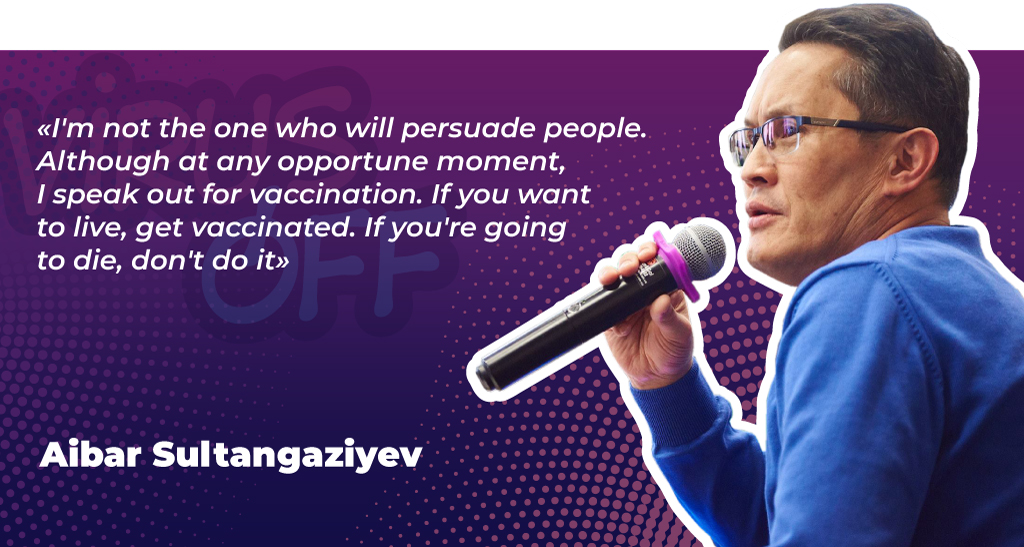 Is it possible to say that the HIV epidemic has faded against the backdrop of the pandemic?
All diseases faded. Some of our medical institutions were simply closed because the entire medical staff ran away, fell ill, or retrained. This lasted from spring to autumn 2020. Then the medical system plunged into the deepest stress. To somehow rehabilitate the sphere of combating HIV and tuberculosis, we began to conduct rehabilitation activities – seminars, prevention of combustion since November last year. Of course, attention to HIV and tuberculosis has decreased, and this is objective. Because we have discovered a new virus that is hundreds of times more dangerous and just brought the whole country to its knees.
Another thing is that we began to identify people with AIDS in the later stages, which is a big problem. However, every cloud has a silver lining. Thanks to the pandemic, we have improved our services. ARV drugs, for example, are now issued for a period of six months to a year. We have begun to ensure the transportation of medicines to our compatriots abroad; people are more willing and faster to register. We launched new online applications, all of which have streamlined our work with people living with HIV.
Has the pandemic changed you in any way?
Of course, she raised the value of the family the lives of loved ones. I began to worry more about my mother, wife, children. We have an energy crisis coming into our country, and I'm trying to equip my house to get through the warm winter. For me today, my family my home is paramount.
The second thing that has changed is the attitude towards injustice. Previously, somehow all the time, I wanted to fight. Now I want to postpone all these wars. Then you understand – it's all a waste of time and effort. And the third point: we began to get tired more. All these online meetings take a lot of time and effort. I want to live and enjoy today.
Today in Kyrgyzstan, the level of vaccination is not very high. Do you think it will be possible to raise this figure shortly?
My personal position is this – I'm not the one who will persuade people. Although at any opportune moment, I speak out for vaccination. If you want to live, get vaccinated. If you're going to die, don't do it. For example, we have a long way to go before we become as law-abiding and informed as do the Japanese. Or the Germans. Another phenomenon is population overgrowth. Almost a million of our fellow citizens have gone abroad, but we did not feel it. All this leads to the fact that the value of life decreases. We are not afraid to lose members of our nation; we do not know what to do with the newborn citizens. Well, of course, we need the change of generations. I really hope that our children will be more responsible and will be able to resist any other new viruses.
You know, at the beginning of the pandemic, everyone asked each other: "Do you have friends who are sick with COVID-19?". Today, everyone has them. And I hope that this cruel lesson will not be in vain, and our fellow citizens will draw conclusions from it. Or at least think about it.
Several fully vaccinated citizens of Kyrgyzstan, in percentage (constantly updated):
Text: Elena Derzhanskaya
 Photo: Personal archive of the hero
A series of materials created supported by UNAIDS