Takhmina Khaidarova was one of the first women in Tajikistan to openly declare her HIV-positive status, despite high levels of stigma and discrimination. Now she is the head of the public organization "Tajikistan Network of Women Living with HIV" and actively fights for the rights of people living with HIV.
Takhmina, do women with HIV-positive status contact you with questions about vaccination against COVID-19?
Yes, our organization is approached by clients with questions about whether it is possible to vaccinate PLHIV, which vaccines are safer, and what adverse reactions may be. We recommend everyone always consult with their doctor, especially when it comes to women planning a child or already in a position. Of course, we support vaccination against this new, aggressive coronavirus and provide all the information you need about vaccines, backed up by scientific research and WHO recommendations.
And what is the situation with morbidity in Tajikistan? And is the authorities' work being carried out regarding the mass vaccination of the population?
We do not have such a critical situation with COVID-19 as in other countries. Only a few cases of the new Delta strain have been officially registered. When many countries closed for lockdown in 2020, we only had enhanced quarantine measures (keeping distance, masking), but there was no such severity.
As soon as vaccines appeared, our state ensured that everyone could be vaccinated without problems and free of charge. An information campaign is being conducted on radio and television that vaccines protect against death. A very good example for the Tajiks was that as soon as the first vaccines arrived in the country, our government, the Ministry of Health, and people who work in the departments were publicly (on camera) vaccinated and showed that it was not scary and no one would die. It created confidence.
And among doctors, there are no cases discouraged from vaccination?
Quite the opposite. Medical workers go from door to door and recommend getting vaccinated in our capital. It is an outstanding practice. They provide reliable information about vaccinations, explain what adverse reactions can be from each of the available vaccines, which vaccine to choose if you want to visit other countries, and provide information about WHO recommendations and research results today.
It is astonishing to hear it since the anti-vaccination movement has intensified in different countries, spreading other stories about chips and genocide.
Our people trust their doctors. Of course, the older generation (60 years and older) believes in all sorts of common myths that vaccination hurts health. Still, we have pretty good indicators of mass vaccination of the population at the same time.
We have compulsory vaccinations for people working in government agencies, in the service sector, for everyone who works with people. Also, criminal liability is provided at the legislative level for the spread of infectious diseases, including COVID-19.
Takhmina, have you personally been vaccinated?
Not yet, but I really want to. When the opportunity to vaccinate appeared, I was undergoing hormonal treatment associated with planning a child. I immediately asked my gynecologist if I could get vaccinated, to which she offered me two options. First, I interrupt hormone therapy, get vaccinated, and start this path six months later, but it is not known how unfinished treatment will affect my health. And the second – we finish the treatment, and then we decide. And it turned out that at the end of the treatment. My doctor recommends that I wait until six months of pregnancy, when the fetus has already formed, and only after that, if all indicators are normal, get vaccinated. It is argued that today there is no scientific research on the vaccination of pregnant women with HIV in the early stages. That's just why I'm not vaccinated yet.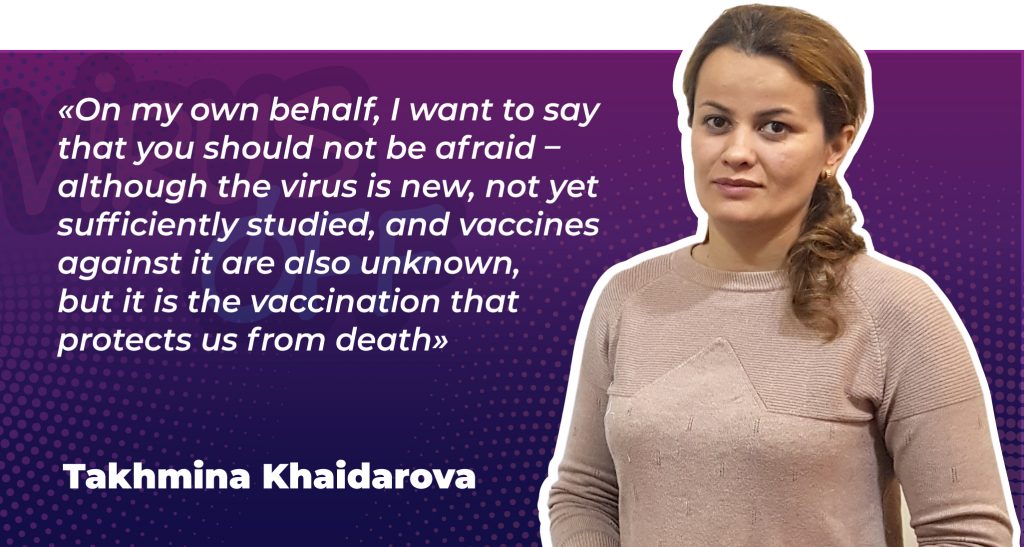 I even had a situation when a nurse from a polyclinic came to our house to recommend vaccination and asked me why I still, working with people, was not vaccinated. I explained to her the position that we took with my gynecologist, and she fully supported, agreed that it was better to wait. But then my sister was immediately vaccinated, who had already been ill with coronavirus twice.
On my own behalf, I want to say that you should not be afraid – although the virus is new, not yet sufficiently studied, and vaccines against it are also unknown, but it is the vaccination that protects us from death. I saw how seriously ill people were; about 20 people died in just a year among my friends and neighbors. Therefore, I appeal to all people, especially those with HIV: you should definitely consult with your doctor, find out about possible side reactions, and get vaccinated!
The following Covid-19 vaccines have been approved in Tajikistan:
Moderna
Oxford/AstraZeneca
Pfizer-BioNTech
Sinovac
Sputnik V
Author: Olga Bula Photo: personal archive of the hero
A series of materials created supported by UNAIDS