Executive Director of the Eurasian Harm Reduction Association (EHRA) Hanna Dovbach knows how to see the good even in a hopeless situation. She survived the pandemic with dignity, was vaccinated quickly, and returned to everyday life without much loss. This was discussed in a new interview for VirusOff.
Anya, to begin with, we ask all our heroes – have you got vaccinated?
Yes, for sure I have. As soon as vaccination was allowed for people of my age, I immediately got vaccinated. At first, however, there was a queue, but then everything was resolved. It was more challenging to reach for the first dose. For the second one, you are automatically recorded. A booster dose is now available in Lithuania. Some of my friends have already got it.
How is the vaccination process organized?
You can get vaccinated at a clinic at the residence or do it in Vilnius at LitExpo. Before the pandemic, there was a large exhibition center, but since the pandemic started, it has been converted into a testing center and then a vaccination center. You can get there by bus for free, and local authorities have organized several additional routes from different parts of the city. When it was warm, people were vaccinated even in parks. Some mobile clinics buses come to large companies or industries to vaccinate all employees at once.
But, of course, there are difficulties in this process. For example, for people who use drugs or migrants who have problems with documents – it is difficult for them to sign up for the vaccination. Because the entry can only be made online by logging in with your identification number. Vaccination in Lithuania is free of charge, and we have all the primary vaccines recognized by the WHO.
We also have a system of free antigen tests and PCR tests if a person suddenly had contact with a sick person.
How seriously do residents comply with restrictive rules?
For the most part, they comply. Masks must be worn in public places, and indoors. People are already used to this. Some time ago, it was possible to wear any mask, but only medical ones were recently allowed to be used. I'm talking to you right now; I took it off because I'm in a café. But to enter this café, they checked my QR code, which the system issues if an entire course of vaccination has been completed or a person has just been ill. We take it instead strictly here. You understand we were locked up at home for almost nine months. Cafés, restaurants, shops, except for grocery and pharmacies, hairdressers were closed, neither concerts nor any mass events were possible. Even with more than two friends on the street it was impossible to meet. You could only order food for home delivery, that's all. Therefore, when we were released with the condition to be vaccinated, people went to get vaccinated. Of course, there were a few demonstrations, but most have themselves vaccinated.
And no one does not feel humiliated or insulted after that?
No, these are the new conditions of life (laughs). Speaking specifically about our work, it is tough for us to convince the beneficiaries from the target groups. If we have been vaccinated, including traveling safely and going to cafés and restaurants, this does not play any role for them.
Can you say that you have more work?
Instead, organizations specializing in harm reduction have begun to work more holistically. For example, if earlier such organizations tested only for HIV, tuberculosis, and hepatitis, now they, for the most part, can additionally test for COVID-19. Almost all NGOs were engaged in and now continue to deliver ARV therapy to their homes. In addition to their primary work, social workers consulted patients on coronavirus infection.
How to motivate clients of the harm reduction program to get vaccinated?
The most crucial argument that always works is that the risk of complications from COVID-19 and subsequent hospitalization increases exponentially without a vaccine. COVID-19 itself is not the most pleasant disease, but when it causes your hospitalization, it's a horrible story. In addition, if you are a consumer in the hospital, no one will bring you methadone or disposable syringes. And this means that in the hospital, you will be very, very sick, and there is nothing you can do about it.
Anna, you are from Ukraine. I am from Moldova, for example. The vaccination level is deficient in your and our countries and most other post-Soviet countries. Why is this happening?
Because people do not have confidence in doctors and the medical system as a whole. Because when you have been living in a corrupt state for 30 years, where access to quality medicine is only by an acquaintance or for money, it is complicated to trust doctors just like that. You know, my friends from Lithuania and Estonia sometimes ask me why I don't go to the hospital once a year for preventive examinations. Because in my head, a doctor is a businessman who, seeing that I am well-dressed, will instantly send me for a bunch of unnecessary tests and prescribe me some useless drug for several hundred euros simply because he receives a percentage of it. Yes, there are decent doctors in every country, but very few of them.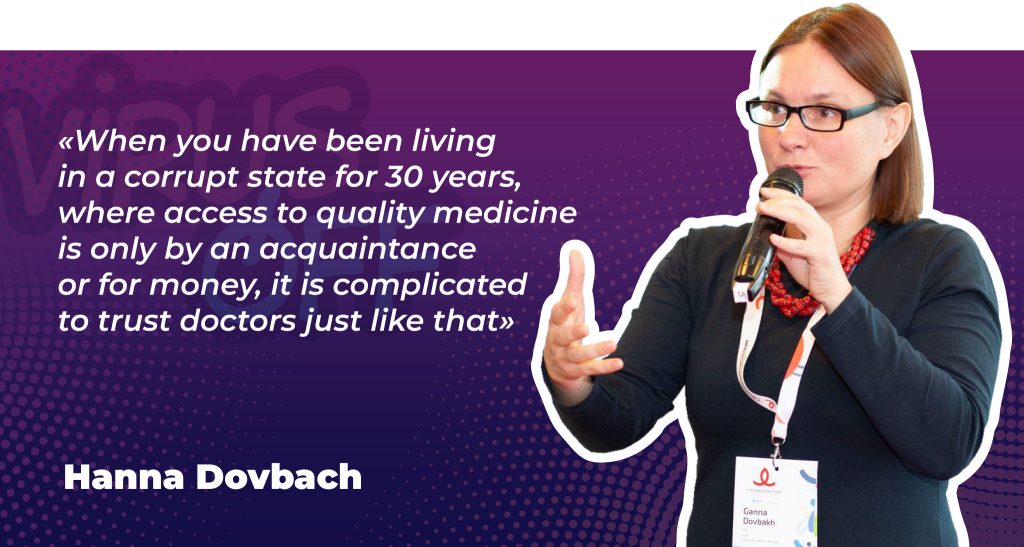 Have your relatives and friends who remained in Kyiv been vaccinated?
Sure. – There were no problems with it.
Are there any of your friends who have not yet been vaccinated, and are you trying to convince them?
To be honest, I have no arguments against the conspiracy theory because the pandemic came too quickly, and everyone understands that even someone is trying to make money on a vaccine. But that doesn't mean you shouldn't defend yourself. For example, I already had contacts with people who got sick, and nothing happened. I'm healthy. Because I'm vaccinated. I am 45 years old, and the number of diseases I have avoided thanks to all previous vaccines, including children's ones, makes me believe in their effectiveness.
How has the pandemic changed you?
It has changed me a lot. It was complicated for me to get used to these online meetings because I am an extrovert by nature, I love people and live communication with them, and online sessions are not that; there is no direct contact. Recently, I started having live meetings again, and I became scared of people at some point. It's so strange. Unfortunately, during the pandemic, this social skill has been dramatically weakened. I learned that I am very at ease staying alone from positive changes. And that there are many exciting places around my house that I have not been to yet. I have made many friends with whom we now go hiking and kayaking here in Lithuania, for this you don't need to go to Ukraine, somewhere abroad, and it's so great. Well, with priorities, it became more evident. The pandemic has put everything in its place and made me think about myself.
We are recording this interview at the airport online. Where do you fly after the interview?
At a working meeting in Istanbul on financing programs for vulnerable groups in the field of HIV response.
Are you glad that you are slowly returning to your old life?
Of course, I returned to the life that I had since the 90s – bright, fast, rich. There was a break for two years, but everything is finally working out now.
Text: Elena Derzhanskaya
Photo: personal archive of the heroine
A series of materials created supported by UNAIDS