Estonia is approaching the WHO-recommended COVID-19 vaccination level. As of December 28, 2021, 61.4% of the total population has been vaccinated in the country. Latsin Alijev, Chairman of the Board of the Estonian Network of PLHIV, tells VirusOff about the mood of Estonians and their personal position regarding vaccination.
We are observing the worst-case scenario in the fight against a pandemic. COVID-19 quickly affects people, and we must be prepared for a long existence with this virus. In recent months, we have been "living online" a lot, and with the advent of the concept of "universal vaccination", the usual rhythm of life is changing and the way we perceive the world around us. We are challenged… And we need to prioritize, develop new habits, gain new knowledge.
It might sound cynical, but I think people needed a little shake-up? I can say with some certainty that people have not taken much care of their health in recent years. Here you can even talk about self-neglect, which led to such an outcome.
An interesting point of view, that is, is nature rebelling against man?
Unfortunately, there is a lot of pain and suffering in the modern world. People think more about themselves, close down, help others less. One of the great people said that suffering elevates, but perhaps they destroy our false ideas about life make us think. And here, it is essential not to be alone; despite our difference, we must unite for the sake of a common goal: health. Only together will we definitely solve, if not all, many of the challenges and problems. COVID-19 is just another challenge facing humanity. Just like it used to be with AIDS. Remember the phrase "the plague of the 20th century"?
Unfortunately, even now, some people think so.
And all because of poor awareness. What can I say if now there are cases when a doctor is afraid/embarrassed to offer an HIV test because he does not know how to do it properly.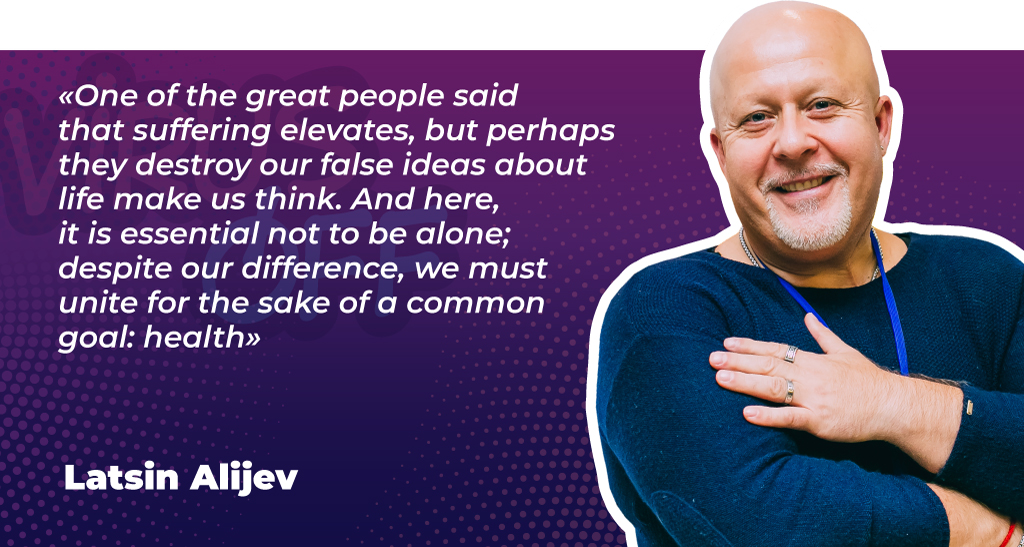 I have been working with the subject of HIV/AIDS for 20 years, and throughout this period, people have been divided into "us" and "them", thus attributing negative qualities. Over time, this division became a matter of self-preservation. People chose life, began to fight, to defend their rights, and today we have ARV therapy, thanks to which you can live a whole life. HIV is no longer as scary as it once was. More and more people openly talk about their status, create families, give birth to healthy children. We have learned to live with HIV; we have even learned to control HIV and suppress the viral load. And now we face a new challenge – COVID-19.
Unlike HIV, a vaccine has been developed for COVID-19. Do you think vaccination will help defeat the virus?
I believe that getting vaccinated against COVID-19 will help us get back to everyday life. In Estonia, everyone can get vaccinated absolutely free of charge. Since December, we have started vaccinating children from 5 years old. Children aged 5-11 years are given a smaller dose, and the vaccine is given as two doses six weeks apart.
Of course, a vaccine alone will not end the pandemic. Scientists and health experts warn that vaccines are unlikely to bring us back to our usual way of life shortly. COVID-19 will remain with us forever or for some extended period, and we will be vaccinated seasonally, as we are now against the flu. This virus will adapt to live with people; it will mutate. It is crucial to break the chain of deaths protect yourself and your loved ones, and the only way is mass vaccination of the population herd immunity. The one that protects us from other diseases, such as measles or polio.
But, alas, the trend now is to be against vaccines in general, not to mention vaccinations against COVID-19.
I repeat people have ceased to value their own health. They don't get vaccinated; they don't adhere to the mask regime, then the death rate from a new virus breaks records every day. There have always been "anti-vaccinators," supporters of a worldwide conspiracy. It was all with HIV; such people were called dissidents. And what was the result of their activities? Late diagnosis and late treatment start (or refusal to register and receive the treatment) led to the fact that the virus continued to be transmitted from person to person, and people died. The same thing occurs here.
A vaccinated person is less dangerous; they, foremost, protect themselves, they are less likely to transmit the virus to others.
Lachin, you work for the Network of People Living with HIV. Has the pandemic affected your activity?
Unfortunately, it is not easy for all our organizations and communities to cope with their responsibilities in the challenging conditions of the COVID-19 pandemic. This is a kind of exam. The main thing is that we all now remain honest, responsive, and ready to help others. Our work requires a lot of time and effort from us – we help people who are having the most challenging time right now… Very often, the soul hurts for what is happening nearby and around.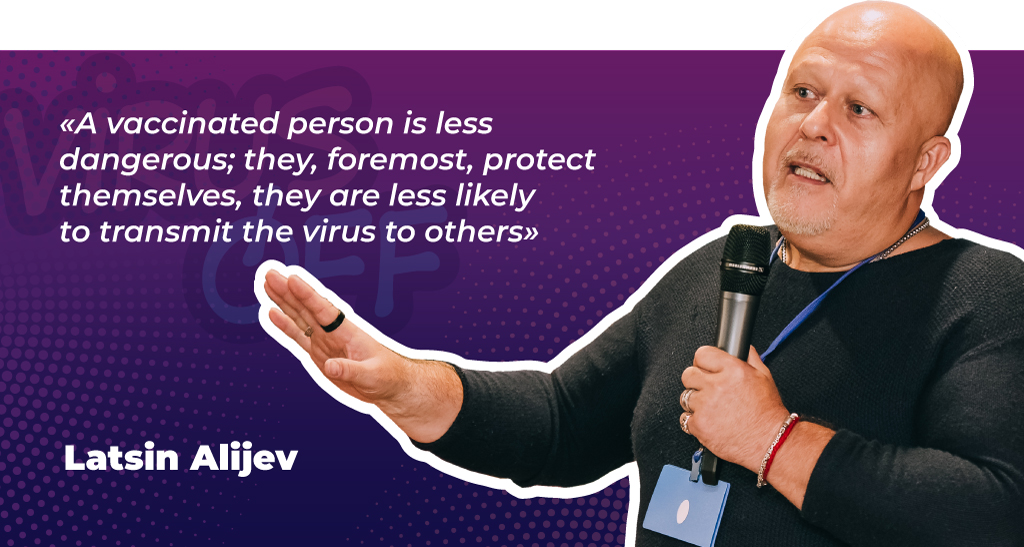 The world has changed become different since the advent of COVID-19. An unknown virus occupied all our thoughts; it appeared next to HIV and socially significant diseases. Time has become more pragmatic, even more demanding, and it is essential right now not to lose the most important thing that has been won by the lives of activists, specialists, and ordinary people. And now is the time of non-governmental public associations that have played and are playing a vital role as one of the elements of the democratic organization of our countries, as conductors of vital aspects – cooperation, dialogue, mercy, and kindness.
Additional Information:
In mid-December, Estonia began vaccinating children aged 5 to 11 against COVID-19. Pfizer-BioNTech's Comirnaty, which immunizes children up to 12 years of age, contains three times smaller amounts of the active ingredient than the adult vaccine and is packaged in smaller ampules. The vaccination course consists of two doses, which, on the Commission's recommendation on Immunoprophylaxis, are administered at intervals of six weeks.
According to current estimates, side effects from the vaccine may occur in less than 5% of cases. In general, vaccination in children is more accessible than in adults. Foremost, family doctors will deal with children's vaccination. This possibility is also available in large hospitals.
The following COVID-19 vaccines have been approved in Estonia: Johnson&Johnson, Moderna, Oxford/AstraZeneca, Pfizer-BioNTech
Text: Olga Bula
 Photo: Personal archive of the hero
A series of materials created supported by UNAIDS