Even though the number of people vaccinated against Covid-19 is growing every day, a new wave of disease is raging in countries with a low percentage of vaccinated populations. As of November 1, 2021, 38.9% of the world's population is fully vaccinated. The VirusOFF editors support the need for vaccination and consider it their mission to share reliable information and stories of real people about the fight against COVID-19. With the UNAIDS support, we launch a series of interviews with people from Eastern Europe and Central Asia who share their stories of vaccination and COVID-19 experiences and those who must fight HIV in the new realities of the coronavirus pandemic. There are hundreds of stories of that kind around each of us, and the main point is to hear, draw conclusions and make decisions that can save lives.
Liana Churgulia combines two important professions at once – she works as a teacher at a school and consults people living with HIV at the HIV/AIDS Patient Support Fund (Georgia). In addition, Liana began collaborating with the women's organization "Romashka," where she works with representatives of key communities. This firm, determined woman shows by her example that the biggest motivation for reaching new heights is kindness and helping people.
Having had a hard time with the coronavirus, Liana Churgulia began to write posts on social networks, in which she urges people to get vaccinated. She tells why she supports vaccination and the current situation with vaccination of Georgia's population in an interview.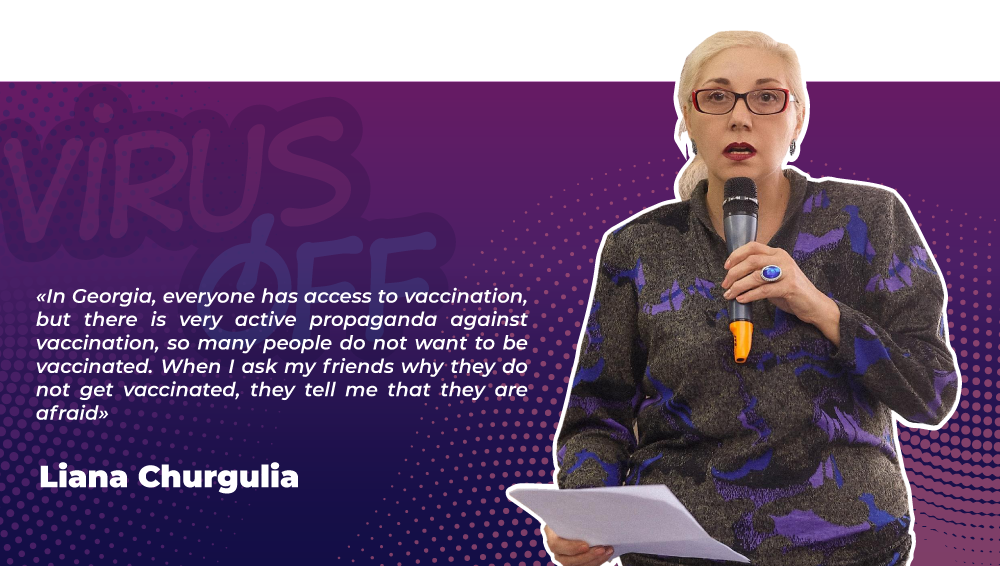 – I have had a severe coronavirus. I was treated at home for ten days, and the doctor watched my state of health. After this time, they brought me to the hospital. For two weeks, in a hospital setting, I struggled not only with Covid-19 but also with its complications: I started having kidney problems, and my blood sugar level rose. But I was always sure that the victory would be mine! Even when I suffered a lot during my illness, I knew that I could defeat the virus.
Was it the severe course of the disease that prompted you to decide to vaccinate?
– You know, I generally have a positive attitude towards vaccinations. Since childhood, my mother always said: it is imperative to be vaccinated because the vaccines protect against diseases. I also have my children vaccinated with all age-related vaccines.
After I was able to defeat the coronavirus, I did no doubt about the need for vaccination. Today, I have been vaccinated with two doses of the Pfizer-BioNTech vaccine. I did not trust Chinese vaccines, which got available a bit earlier in Georgia. What I was waiting for, was Pfizer.
Now they say that it is the Pfizer-BioNTech vaccine that is more side effects than the Chinese one. Have you had any adverse reactions?
– I can say that I did not pass the vaccination very easily. I had a fever, I had headaches, but on the third day, everything disappeared. I reacted calmly to the situation; this is a natural reaction of the body to a virus. After being vaccinated with the second dose, I felt horrible in the evening; I shivered all over. And only when the temperature reached 38.5, I took paracetamol. I was prepared for the side effect.
You actively encourage people to get vaccinated on social media, but how do your family members feel about vaccinations?
– All members of my family are fully vaccinated. It was their decision. I couldn't force anyone (laughs). I believe that it is better to wait a couple of days after the vaccination if there are side reactions than to get sick, and it is unknown whether you will get out at all.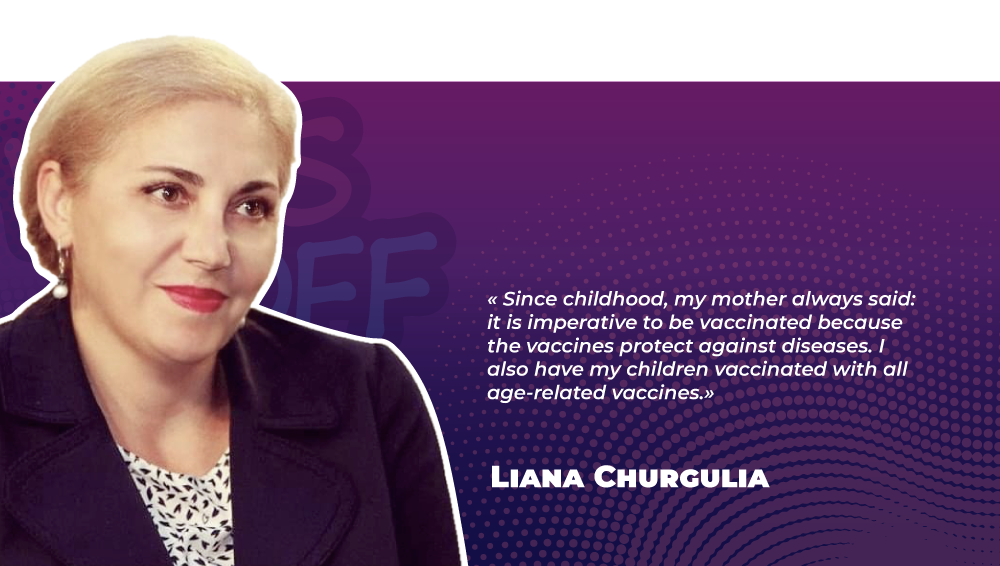 And what is the general situation with vaccination and the mood of people in Georgia?
In Georgia, everyone has access to vaccination, but there is very active propaganda against vaccination, so many people do not want to be vaccinated. When I ask my friends why they do not get vaccinated, they tell me that they are afraid and do not understand why it is needed. Unfortunately, we have no information on TV about the importance of vaccination; no one massively explains to people what vaccination is, what its benefits are, how it will work on a person, etc. People are afraid because they do not know how this vaccine (it is, against Covid-19) will affect their health and future lives.
The number of fully vaccinated citizens of Georgia, in percentage (constantly updated):
The country's statistics say, that as of October, about 25% of the population in Georgia was vaccinated. In one of the classes where I teach, I asked the children which of the parents was vaccinated. About 30% answered that their parents were vaccinated. The general statistics in the country confirms this. People are afraid of the unknown.
I understand that getting vaccinated is not a guarantee that I will not contract Covid-19. But I know that if I get infected, I will more easily experience the disease. And I'm talking about this to everyone. Often, I make posts on Facebook where I urge people to get vaccinated; I say that the vaccine is available and needs to be vaccinated. I think so, I got vaccinated, and I encourage others. Prevention is our future!
The following Covid-19 vaccines have been approved in Georgia:
Oxford/AstraZeneca
Pfizer-BioNTech
Sinopharm (Beijing) Sinovac
written down by Olha Bula
This series was created with the support of UNAIDS